As part of the Standardization in training.
Having recently attended the Max Velocity Combat Team Tactics (CTT) & Mobility/Convoy Operations (MCO) combined class, I intend to go to the Combat Team Tactics (CTT) & Combat Patrolling (CP) combined class in the future.
http://www.maxvelocitytactical.com/tactical-training/tactical-classes/combined-crcdpatrol-class-5-day/
What I am proposing is that we get one pair from each established standardized groups to sign up* and we all attend as a group together.
Why one pair? Because the basic premise behind the training is the foundation of the Buddy Pair. This will almost always be a husband/wife team, but may not be depending on circumstances. However, this would be a great way to get our wives involved, especially with other women being there. Another reason to send a pair is redundancy in training. The pair you send will return with the new knowledge and train the group. Both people together will have a better understanding, and be able to remind each other of the training they received, working together to train the rest of the group. Obviously, individuals are still welcome, and can be paired up as needed (as happened for 12 trainees of the 16 that attended above, and it worked perfectly fine.)
It would also be helpful if we populated the entire class with people from our groups so that we get the chance to work together, in person, on one of the training standardizations without any outside influences. This is part of the standardization processes and will help to build relationships with other groups.
From what I recall (had I had my wife with me, she could remind me about this and I would not be using my best guess), there are only 16 slots available in each class. With each group sending two people, that is enough for eight groups.
We can all go to the WV training facility, or as occurred with the class I attended, Max came to Texas for the class. If the right facilities can be secured (large private ranch would be best), then I am sure he can be convinced to come down for a week, saving on travel costs for the attendees. If the ranch has a lodge on site (as did the CTT & MCO class in Texas), then there would be even further savings on lodging expenses.
This training is not cheap because it is valuable. I received more than my money's worth for the training I received, which is why I am willing to go again. Because the pair (or individual if you cannot get a pair) who will be attending training will be returning to conduct the same training with their own group members (for free), it might be plausible for your group to subsidize the trip for whomever does go. You must look at this as a
train the trainer
type of expense. Everyone in your group will benefit. So it should not be one large expense for one or two people, but one much smaller expense shared by a lot of people. If you have a dozen people in your group who will be trained, then the expense should be divided by 12. If you are truly a cohesive group, then your members will not see this as an issue.
At this point. This is an OPEN INVITATION to generate interest. After we get enough interest, then we will see what can be arranged, either more locally, or at the WV facility. Supposedly there are some incentives in the works for females to attend, but that has yet to be revealed.
If this is something that you (your group) would be interested in doing, please comment below. It may take a year before we get enough interest, but we need to know what we have to work with. If we cannot generate enough interest, then those who are can convoy up to WV together as part of a normally scheduled CTT & CP class.
* If anyone knows a competent combat team trainer (that has real world combat experience) that is more local, who is willing to provide similar training, please let me know. We can figure out a way to come up with a location if needed.
(FWIW: I will be proposing similar training events for medical, communications, and other field operations as well in the future. I spend a lot of money going to different trainers to find something worthwhile to recommend.)
This would be awesome training but not anywhere near in my financial future. Besides, I'd better learn to crawl first. I may be a good candidate to be "Uncle Doc" helping secure the camp and cooking dinner.
doc g wrote:This would be awesome training but not anywhere near in my financial future. Besides, I'd better learn to crawl first. I may be a good candidate to be "Uncle Doc" helping secure the camp and cooking dinner.
Everyone needs to know this stuff. I believe you have a couple of guys near your BOL that can teach you this stuff. Max delivers the training in a crawl, walk, run format. He is astonishingly good provided you are not
Everything will be fine. And I know you can do as well as anyone else. One of the students at our last class was a lawyer in his mid 60's, and he kept up just fine, and he was not in a good a shape as you are.
thank you. appreciate the vote of confidence, probably can. and will talk to one who is in the arena of protection about some training.

he has offered before, but because he is so busy with business, hate to ask him for it.

will now, ask him if he is interested in doing a group. based on prior discussions with him, I'm sure he will want close knit folks only if it is to be in our ao, which is where I need for it to be, as well as he. Don't want to offend any one, but this will take place in a very specific area, wide open, but where he an I will end up together in a bad event. Sorry, will not just be an open event like Max training. Max will NOT be bugging out where he trains. Will be very secured, IF it even happens. Will ask.

btw, can I buy the "that guy" patch? pretty sure it applies here. need it to be Velcro, and will wear it proudly in the field.
No, you do not want that patch.
You want
this patch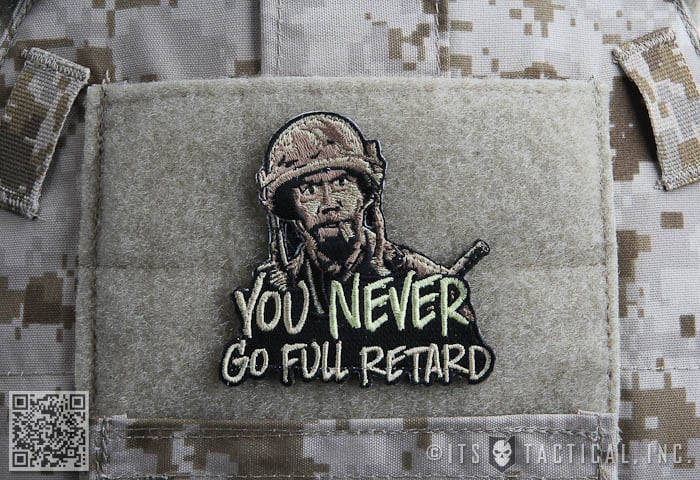 way past that one bro!! too funny.
Helpful patches aside -- that course seems right on the money. Go, and bring back the skills... please.



Posts

: 16


Join date

: 2015-03-10





Similar topics
---
Permissions in this forum:
You
cannot
reply to topics in this forum